Are you looking for a suitable sewing machine under your budget? we must congratulate you because you have landed on the right page. While buying the sewing machine, we come across various models and prices. A low-priced machine cannot offer as many features and sets as the expensive one. Meanwhile, your pocket is now allowing you to go for that.
Keeping in mind the low budget of a lot of buyers, Cosewing through deep and thorough research found the 7 best sewing machines for quilting under $500. We through practical usage reviewed the machines and figured out their pros and cons that will be beneficial for you to take the final decision.
We will try our best to cover all the functions and settings with their performance based on research, usage, and customer reviews as well.
Top 7 Best Sewing Machines for Quilting Under $500 in 2022
Let's have look at our favorite sewing machines one by one.
| | | | | |
| --- | --- | --- | --- | --- |
| | | | | |
| | | Janome JW8100 Sewing and Quilting Machine | | |
| | | Brother PQ1500SL Sewing and Quilting Machine | | |
| | | Janome HD1000 Sewing and Quilting Machine | | |
| | | Janome MC6650 Sewing and Quilting Machine | | |
| | | Brother XR9550 Sewing and Quilting Machine | | |
| | | SINGER 9960 Sewing & Quilting Machine | | |
| | | Brother CS6000i Sewing and Quilting Machine | | |
1. Janome JW8100 Fully-Featured Computerized Sewing Machine
The Janome JW8100 comes with 100 built-in stitches with an interior metal frame and a slider for controlling the speed of the needle. The Janome is a sewing machine with a basic look, although it has a digital screen that displays your choice of stitch length, width, and the recommended foot for usage.
The machine has an interior metal frame with a hard, white plastic exterior. Janome is a shiny, sleek sewing machine with a small paisley pattern under the LCD screen that matches the modern, computerized features. It is exciting that this machine comes with a warranty of 25-years.
It has a whopping 100 built-in stitches and a backlit LCD display that show the availability of stitches you can select. It's easy to get to the point where you guess like, and an extra hand would be awfully helpful doesn't matter whether you're a beginner or an advanced sewer.
With the speed controlling feature, you can sew at 1000 stitches per minute, the speed control slider enables you to sew at any speed you're comfortable with. The JW8100 has a top-loading bobbin feature, you can insert the bobbin in its case near the needle plat instead of the bobbin at the front of the machine behind the accessory case.
The reverse button feature enables you to backstitch to strengthen your seams and make sure nothing unravels. Here comes the start/stop button, you can adjust the machine without using the foot pedal at all. You can stop and start on a dime. One of the great bonuses you receive with the JW8100 is the extra-wide extension table. It helps you to have more workspace when you need it but can effortlessly be put away when you don't.
Specifications
| | |
| --- | --- |
| Weight | 12.7 lbs |
| Dimensions | 16 x 7 x 12 inches |
| Stitches | 100 built-in stitches and seven auto buttonhole styles |
| Speed | 1000 stitches per minute |
| Computerized/Mechanic | Computerized |
| Bobbin | Top-Loading Bobbin |
| Warranty | 25-year limited warranty |
Accessories
Assorted Needle Set
Seam Ripper/Buttonhole Opener
Lint Brush
Screwdriver
Stitch Card
Instruction Book
Dust Cover
Foot Control
Power Cable
Automatic Buttonhole Foot for use with any of the seven styles of 1-Step Buttonholes
1/4 Inch Seam Foot
General Purpose Foot
Even Feed Foot
Extension Table
Horizontal Spool Holder
Pink and White Pincushion
Satin Stitch Foot
Zig-Zag Foot
Screw-On Zipper Foot
Our Verdict
Janome JW8100 is the best sewing machine for quilting under $500 that comes with a lot of amazing features. With the speed of 1000 stitches per minute and 100 built-in stitches, the JW8100 allows you to showcase your crafting skill. A computerized machine with an LCD touchscreen to adjust the amazing features.
2. Brother PQ1500SL Sewing and Quilting Machine
When it comes to the best sewing machine for quilting, it is hard to beat the Brother PQ1500SL unless you have an extensive budget of $1,000. The best thing about this machine is that you can use it for quilting and daily sewing projects. The Brother PQ1500SL is consistently one of the top-rated and highest-value best sewing machines for quilting under $500 on the market today.
The machine has a high sewing speed of 1,500 stitches per minute which help you to finish your project in less time or move smoothly to guarantee that the intricate designs are carried out perfectly. The auto threader, needle positioner, and thread trimmers make machine quilting more convenient that save your time.
A valuable feature of the Built-in Knee leaver helps you with hands-free lifting and lowering the pressure foot so that you can more focus on re-positioning your fabrics. This feature includes the included extension table which spans 12'' x 18'' that adds valuable working space to make it convenient to finish your projects without the hustle of re-position the fabric.
With the amazing feature of Feed Dog Height Adjustment, you can enjoy the four heights to accommodate just about any project, also a pin feed mechanism to exchange the feed dogs for the pin which cleanly extends from underneath the machine. The Pin helps you to move the quilt layers together with little effort or to work with difficult fabrics like velvet without leaving dog marks behind.
Specifications
| | |
| --- | --- |
| Weight | 33.4 lbs |
| Dimensions | 25″ x 11.8″ x 14.8″ |
| Stitches | Straight |
| Speed | 1500 stitches per minute |
| Computerized/Mechanical | Mechanical |
| Bobbin | Vertical bobbin |
| Warranty | 25 years |
Accessories
Straight stitch sewing foot
Rolled hem foot
Adjustable zipper foot
Invisible zipper foot
Quarter-inch foot
Spring action quilting foot
Seam guide
Walking foot
Power cord
Foot control
Accessory kit with needle packet
Ballpoint needle
Spool cap
Fabric separator
5 metal bobbins
Cleaning brush
Screwdrivers
Spool cushion
Owner's manual
Our Verdict
It is one of the best quilting and sewing machine that can stitch all types of fabrics. Brother PQ1500SL quilting and sewing machine is very highly rated and is advised for all sewers and quilters worth their salt. This machine can be used by a range of users once you understand your way around the machine. It has a lot of features, particularly those that enable you to work very fast with the machine and finish your quilting and sewing projects earlier than you would with other machines. It will be the right decision if you buy it.
3. Janome HD1000 Heavy-Duty Sewing and Quilting Machine
The Janome HD1000 sewing and quilting machine sleek, shiny, and basic-looking machine with smaller television and come with a 25-year limited warranty. It has HD1000 14 different built-in stitches for example straight stitch, zig-zag stitch, knit stitch, stretch stitches, buttonhole, decorative stitch, and much more.
When it comes to construction, The Janome HD1000 comes with an aluminum interior frame and aluminum exterior that make it an industrial-grade machine. To make the sewing more convenient, the machine has Built-in Needle Threader, so you need to thread the needle manually.
The feature of drop feed with 3-piece feed dogs allows free-motion sewing and makes quilting a much easier task. It has an easy lever for reverse stitching that allows you to stitch backward to strengthen your stitches and make sure they don't unravel. The machine can sew almost every fabric you're going to use.
Specification
| | |
| --- | --- |
| Weight | 16.8 lbs |
| Dimensions | 15.6 x 6.3 x 12.4 inches |
| Stitches | 14 stitches with a 4-step buttonhole |
| Speed | 840 stitches per minute |
| Computerized/Mechanic | Mechanic |
| Bobbin | Front-loading bobbin |
| Warranty | 25-year limited warranty |
Accessories
4 snap-on presser feet, which include a general-purpose foot, buttonhole foot, zipper foot, and blind hemming foot
Bobbins
Spool-pin Felt
Hardcover
Needle set
Large screwdriver
Small screwdriver
Oil
Our Verdict
Janome HD1000 heavy-duty machine has many useful features that make it powerful, sturdy, and easy to use. Although it is not the fanciest machine available on the market as your budget is low so it is the best sewing machine for quilting under $500 and can do the job perfectly.
4. Janome MC6650 Sewing and Quilting Machine
Janome MC6650 is specially designed for advanced and experienced sewers who want perfect and convenient sewing. It can sew at a high speed of 1000 stitches per minute with the unbeatable metal seamless flatbed. The Janome MC6650 is an extraordinarily adaptable sewing machine. It has many advanced features such as 170 stitches, two-letter sets, and an autonomous bobbin winding.
It is exceptionally a wonderful machine for sewing and all ways of home decoration. The Janome MC6650 has a complete metal body that makes it a little heavy but has many advanced features so you can ignore its heavyweight. There are six LEDs placed at three different places that make it a very constructive machine. If you're an experienced sewer and want to upgrade your machine and it is one of the best sewing machines for quilting under $500.
The machine has an amazing feature of reverse stitching. With a push on that button, you can reverse stitch and thus reinforce the thread with this feature. You need a start/stop button machine in case you're working on a megaproject that needs less tweaking and more sewing. This button enables you to have control of the whole machine at your fingertip.
Specifications
| | |
| --- | --- |
| 170 stitches | 9 buttonholes |
| 2 alphabets | 1000 stitches per minute |
| Max stitch length 5mm | Max stitch width 9 mm |
| Top loading full rotary hook bobbin | Manual thread tension control |
| Memorized needle up/down | Built-in needle threader |
| Locking stitch button | Knee lift capability |
| Presser foot pressure adjustment | Extra high presser foot lift |
| 7-piece feed dogs | Drop feed capable |
| 3.6 inch LCD control panel | Speed control slider |
| Retractable thread guide | Automatic programmable thread cutter |
| Stitch mirror imaging | Stitch elongation |
| Last stitch recall | 20 memory banks for storing stitch sequences |
| 2 needle plates | 10-inch metal flatbed working space |
The Accessories
Darning foot
Rolled hem foot
Blind hem foot
Overcast foot
Lint brush
Satin stitch foot
Seam ripper
Zipper foot
Automatic buttonhole foot
Zig-zag foot
Open toe foot
Free-motion quilting
small & large spool caps,
Spool rests
Buttonhole stabilizer plate
Quilting guide
Pack of needles
Screwdriver
Straight stitch needle plate
Zig-zag needle plate.
Our Verdict
After discussing all features of Janome Memory Craft 6650, we have come to the point that it is the sewing machine that offers its users the top-notch administration in speed and accuracy. It can handle various types of work like quilting, patch stitching, whatnot, etc. The stitches and performance of the machine are worth the cost for the Janome 6650.
5. Brother XR9550 Computerized Sewing and Quilting Machine
The Brother XR9550 comes with several feet straight out of the gate, including zigzag, buttonhole blind stitch, overcasting, zipper, button sewing, spring action quilting, and monoprogramming feet. 25 years of warranty is a nice bonus. The machine has Auto-Size Buttonholes that will allow the machine to sew the buttonholes in at the perfect size.
Auto-Needle Threader is the nicest feature of this sewing machine which will save you time and improve your overall experience sewing. Brother XR9550 has added a drop-in bobbin system to make your sewing life a little easier, having this feature you don't need to fuss with the bobbins. Switching between stitches, threads, and feet is super easy too.
A greatly useful LCD screen displays all your options even in the dead of night. It makes your sewing very convenient. With this light, you can work into the night and strain your eyes. The machine has all the features that are helpful for a beginner in every way from set-up to threading to stitching. They offer adjustable features all over the machine. Only a ten-pound weight of the machine will not weigh you down.
| | |
| --- | --- |
| Feature | Specs |
| Dimensions | 12.5″ x 16.3″ x 7″ |
| Weight | 10.1 lbs |
| Stitches | 110 built-in stitches; 8 auto buttonhole stitches |
| Monogramming font | 1 included |
| Stitch length and width | 5 mm x 7 mm (0.19 x 0.27 inches) |
| Maximum sewing speed | 850 stitches per min (ppm) |
| Presser's feet | 8 |
| Feed dogs | 6 points, will drop |
| UL/CSA listed voltage | 110V |
| Warranty | 25-year limited warranty |
Accessories
Wide extension table
Protective hardcover
Instructional DVD
Eyelet punch
Cleaning brush
Screwdriver
Extra spool pin
Spool caps (3)
Power cord
Bobbins (4)
Accessory pouch
Seam ripper,
Needle set
Nall point needle
Twin needle
Our Verdict
Brother XR9550 offers a variety of amazing features that allow handling a wide range of fabrics with ease. The machine has the ability of sewing delicate stitch work on quilts just as easily as it handles tough denim work. The clean design, lightweight, amazing features, and price make it a great machine to buy.
6. Singer Quantum Stylist 9960 Sewing Machine
The Singer Quantum Stylist is specially designed for the new sewers who want an affordable machine with many advanced features that will not disturb your budget. It is offering many great features at a reasonable price. It's a wonderful machine capable of undertaking many projects you're likely to encounter, barring any serious heavy-duty fabrics.
It is one of the best sewing machines for quilting it is under $500 and comes with 600 built-in stitches plus 13 fully automatic 1 step buttonhole styles and incredible reliability making this a super amazing, computerized machine. The gray and white tones of the machine make it looks professional and sleek while the uncommon "Start/Stop" button stands out in green.
It's a 25-year limited warranty but varies according to the parts. It has an Automatic Needle Threader and Cutter to make the sewing convenient and quicker to save time. The machine has added a Top Drop-in Bobbin that allows you to easily monitor the amount of thread left.
The less confident sewers may feel more confident using the Electro Auto Pilot and Speed Slider feature. It enables you to sew without the foot pedal and will cue you in when there is an error and point out the problem area. This computerized machine has an LCD screen and so-called digital information adviser to help you quickly and effortlessly choose your required stitch, length, and width and will even recommend the best presser foot for you.
Specification
| | |
| --- | --- |
| Weight | 20 pounds |
| Dimensions | 17.2 x 8.2 x 12 inches |
| Stitches | 600 built-in stitches including |
| Speed | Up to 850 stitches per minute |
| Computerized/Mechanic | Computerized |
| Bobbin | Top drop-in with a see-through plate to keep an eye on your thread |
| Warranty | 1-25 years limited warranty |
Accessories
All-purpose foot
Zipper foot
Buttonhole foot with underplate
Button sewing foot
Blind hem foot
Satin stitch foot
Open toe foot
Overcasting foot
Darning and embroidery foot
Rolled hem foot
Cording foot
Straight stitch and quilting foot
Even feed and walk foot
Braiding foot with guide
Adjustable bias binder foot
Single welt cording foot
Stitch-in-the-ditch foot
Fancy trim foot
Accompanying presser foot shank.
Our Verdict
Singer Quantum Stylist 9960 is one of the bestselling sewing machines of all time. It is the best sewing machine for quilting for both experienced and beginners. Those looking to do their daily sewing work will get the most out of this machine. Passionate sewers and quilters can certainly find enjoyment in its use. It is highly recommended for new sewers for the smooth learning curve and for experienced sewers who are looking to replace one of their older machines.
7. Brother CS6000i Sewing and Quilting Machine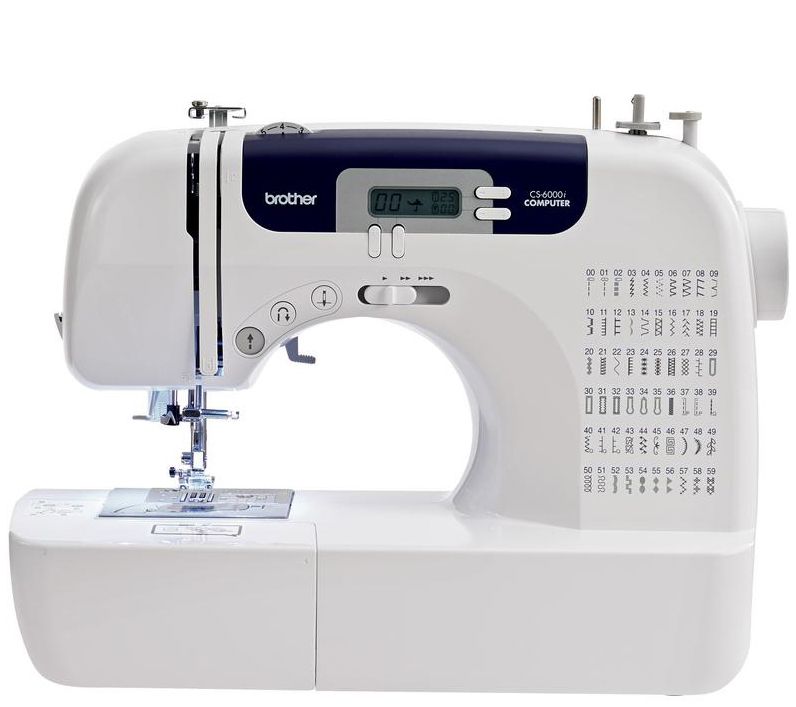 Brother CS6000i is a well-known and low-cost entry-level sewing and quilting machine. It can handle a variety of projects from making clothes and sewing work to decorative stitching and quilting. The Brother CS6000i is the best sewing machine for quilting under $500 for those who want sewing, quilting, and embroidery combo and need something that can handle multiple layers of fabrics.
CS6000i is super beginner friendly without sacrificing the modern features and customization that are necessary to work on more advanced projects. When it comes to it its look, the light gray rounded body of the machine feels both modern and familiar. It doesn't appear bulky at first glance though it weighs about 17.2 pounds.
The Brother CS6000i comes with an easy to read to LCD stitch chooser that is made prominent by a dash of blue plastic. The above-mentioned 25-year warranty for the Brother CS6000i makes sure that parts, labor, and accessories for the machine can be replaced up to one year after purchase of the machine.
Specification
| | |
| --- | --- |
| Weight | 17.4 lb |
| Dimensions | 16 x 6.7 x 11.4 inches |
| Stitches | 60 built-in stitches |
| Speed | 850 stitches per minute |
| Computerized/Mechanic | Computerized |
| Bobbin | Jam Resistant, quick set, top-drop in |
| Warranty | 25-year limited warranty |
Accessories
Walking foot
Spring action quilting foot
Quilt guide for foot holder
Buttonhole foot
Overcasting foot
Monogramming foot
Zipper foot
Blind stitch foot
Button fitting foot
Bobbin
Eyelet punch
Needle set
Twin needle
Seam ripper
Cleaning brush
Wide table
Screwdriver
Extra spool pin
Hard case/cover
Our Verdict
Cosewing believes that this little beauty is one of the best sewing and quilting machines that enable you to find your footing when you're just starting your sewing career. We highly recommend this machine; it represents excellent value for money. As well as being reasonably priced, it's easy to use and comes with a host of interesting accessories.
Conclusion
Do you really love quilting? Alright, you could still use your well-loved sewing machine to quilt. But why would you opt for just any other usual sewing machine when you could get an even much better sewing machine for quilting at a reasonable price? To save your time and the hassle of looking for the best sewing machine for quilting under $500, I've curated this guide that enlists 7 different sewing machines inside this budget. You'll have plenty of options to choose from.